A Closer Look at the Avaya 9600 Series of Phones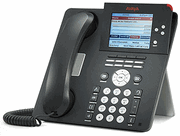 The Avaya 9600 series is a powerful full featured desk phone that provides excellent communication options for businesses.  The latest in voice over Internet protocol, the Avaya 9600 series offers an advanced solution for business communications. The IP office system integrates the latest telephony features with Internet connectivity.
Advanced features

Integrated applications

SIP (session initiated protocol)

Utilize existing infrastructure
Important Advanced Features
High quality audio – The 9600 Series IP deskphones offer superior acoustics and reduce annoying background noises. This is particularly helpful for those who spend a great deal of time on the phone, whether for business or pleasure.
User-friendly interface – The 9600 series gives users intuitive features that are easy to use. The softkeys can be programmed with a variety of features. Scrolling menus help users through every step of the call process. Use integrated buttons and touchscreens to handle standard tasks.
Improve productivity – Feature-rich phones that integrate with other services allow employees to become more productive. Access to all communication options from one source provides more efficiency in the IP office environment.
Customizable – Choose from many available features to program each phone set to provide maximum access. Features and options can be easily changed when needed. Users can customize their own phones with speed dials and other options that help improve communications.
The Avaya 9600 series IP desk phones are the perfect way to provide high quality communications for your business. The Avaya 9600 phones offer a wide variety of important features that are designed to help you streamline your communications. They offer many IP telephone features that users will find invaluable for their daily business communication needs. The two most popular models include the Avaya 9620 and the Avaya 9650. Both sets interface easily with your IP telephone system.
Features of the Avaya 9620
The 9620 phone is an ideal addition to your IP telephone system.  The 9620 provides all the features users need and then some.  It is a desk set that is designed for everyday phone users.  It integrates all the main communication tools into one convenient instrument.
Speakerphone

Access to voicemail and indicator light

Display Size 3.1 x 1.6

Greyscale display to view and manage calls

12 administrative buttons

2 softkeys for features

Menu for options and settings

Available in a variety of colors
Features of the Avaya 9650
The 9650 deskset is designed for a power phone user – someone who utilizes the phone for a majority of the workday. The phone provides a number of advanced features and access to applications. 
Phone screen for viewing and managing calls

24 administrative buttons for call managing and features

4 softkeys for features

Call log

Contacts list

Integrated WML browser

Menu of options and settings

Access to voice mail and indicator light

Display size of 3.1 x 2.3
Conclusion
The Avaya 9620 and the Avaya 9650 IP deskphones are both great choices for your IP telephone system.  Both offer essential features that users need on a daily basis. The phones are highly technical yet are affordable. They are user-friendly and provide plenty of functions that will streamline the telecommunication process. The phones offer features are easy to understand, giving users the access to the options they can actually utilize to assist in their day to day operations. These phones are durable, feature rich, and operationally intuitive to provide high quality communications at competitive prices.
For more information on Avaya 9600 IP Phones, please visit our website.